Want to live your own romantic comedy? Here are vacation destinations that are inspired by your favorite romantic comedies!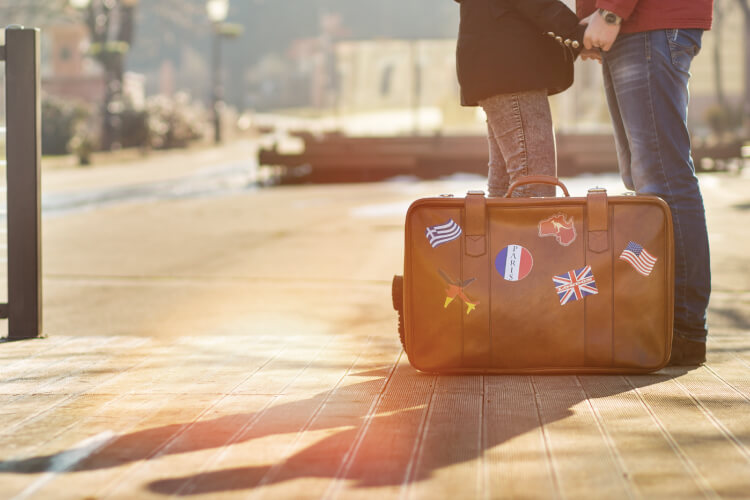 I love romantic comedies! While everyone else is getting their Breaking Bad or House of Cards fix, I'm watching the Holiday, for the tenth hundredth time. And lately I've found myself daydreaming about traveling to some of the places these movies take place.
Today I'm joining up with some of my favorite bloggers for a Romantic Comedies blog hop. We're all sharing recipes and projects and ideas from our favorite romantic comedies. And since I'm longing to travel far and wide since the twins were born, I thought I'd share some beautiful vacation destinations from everyone's favorite romantic comedies, as well as things to do while you're there!
1. Surrey, England—the Holiday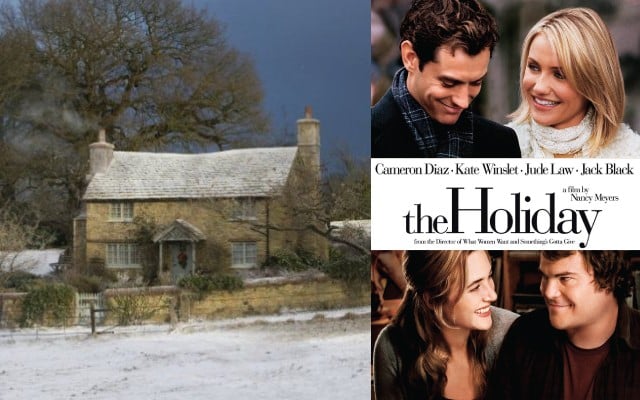 Let's start with the Holiday, since it's the one I just watched. I love the transcontinental love stories of Iris (Kate Winslet) and Miles (Jack Black) and Amanda (Cameron Diaz) and Graham (Jude Law), plus the tiny British actresses that play Graham's daughters make me smile every time. Every time I drool over the quaint English village of Iris and Graham. The Holiday is a movie I come back to over and over again, especially around Christmas. To have your own English holiday, you can book a cottage in Surrey, England, just like Amanda did!
2. Rhode Island—27 Dresses
I didn't expect to like 27 Dresses as much as I did, and now it's one of those that I throw on when I want a feel-good movie. Ever the bridesmaid, Jane (Katherine Heigl) loves weddings. When she meets cynical Malcolm (James Marsden), sparks fly—but he's not who he seems. Although a lot of this movie takes place in New York City, many of the scenes were filmed on location in beautiful Rhode Island, including Rosecliff Mansion and Mill's Tavern and several Newport and Chepachet beaches.
3. Oahu, Hawaii—50 First Dates
Adam Sandler movies are often hit or miss for me. But 50 First Dates, set in Oahu Hawaii, is one of my favorites! The chemistry between Henry (Sandler) and Lucy (Drew Barrymore) is perfect, and the plot is unlike any movie out there. They treat Lucy's short term memory loss with big heart and I always love how her dad and brother care for her. Plus, it's very funny! If you head to beautiful Oahu, you can take a movie set tour, which takes you to some of the filming locations of 50 First Dates, as well as other TV shows and movies shot on Oahu.
4. Seattle, Washington—10 Things I Hate About You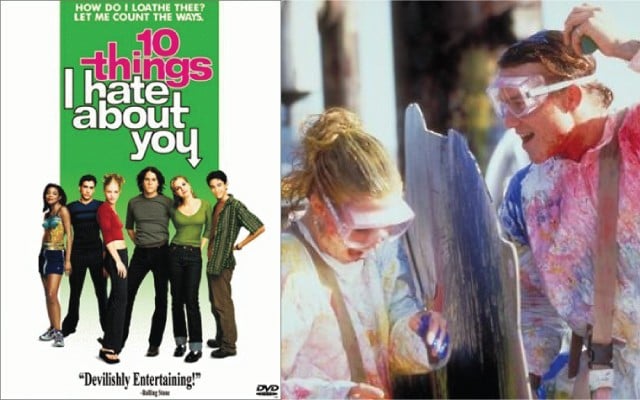 I'm not sure I've ever met someone who didn't like 10 Things I Hate About You. Adapted from Shakespeare's the Taming of the Shrew, it's a romp of a high school love story about Kat (Julia Stiles) and Patrick (Heath Ledger) and Cameron (Joseph Gordon-Levitt) and Bianca (Larissa Oleynik)—before they were the big names they are now. You can visit a few of the filming locations in Seattle, including Gas Works Park (don't play paintball there, though, you might get arrested!) and the Fremont Troll.
Buy 10 Things I Hate About You on Amazon
5. London, England—Love, Actually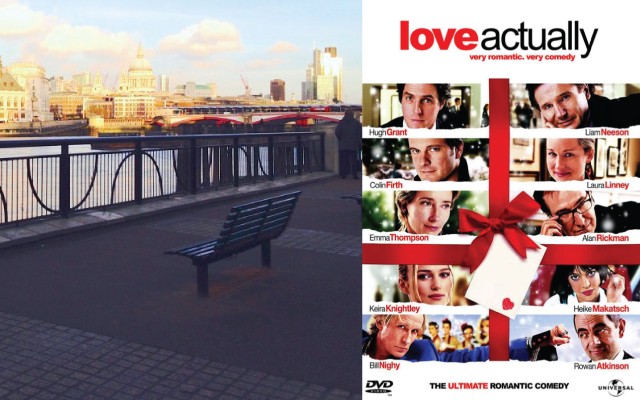 Love Actually is another one of my favorites around the holidays, filled with some of my favorite actors—Colin Firth, Alan Rickman (can we stop for a second and talk about how much his death broke my heart?), Emma Thompson, Laura Linney, Hugh Grant, Liam Neeson, Bill Nighy, and Kiera Knightly. The movie takes place all over London, so there are a lot of sites to hit. One of my favorites might be the bench in Gabriel's Wharf where Daniel (Neeson) has a heart-to-heart with his son Sam, and finds out he's in love.
6. Ireland—Leap Year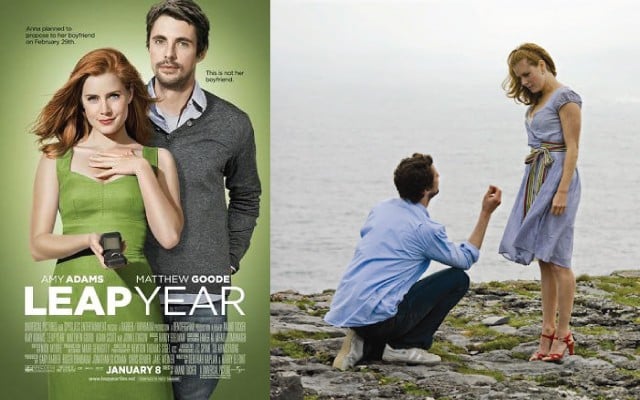 Leap Year really me want to visit Ireland again! The movie is about Anna (Amy Adams) who goes to Ireland to ask her boyfriend Jeremy (Adam Scott) to accept her wedding proposal on leap day, when tradition holds that men cannot refuse a woman's proposal for marriage. But handsome innkeeper Declan (Matthew Goode) ends up ruining all her plans! Apparently the geography of the movie is totally screwed up, but you can visit the gorgeous cliffs at the end of the movie in Inishmore at Dun Aengus, as well as the castle Rock of Dunamese which has a little help from CGI in the film, but is just as magical in person. Of course, pretty much ever scene in this movie will make you want to head to the green isle!
7. France—the Hundred Foot Journey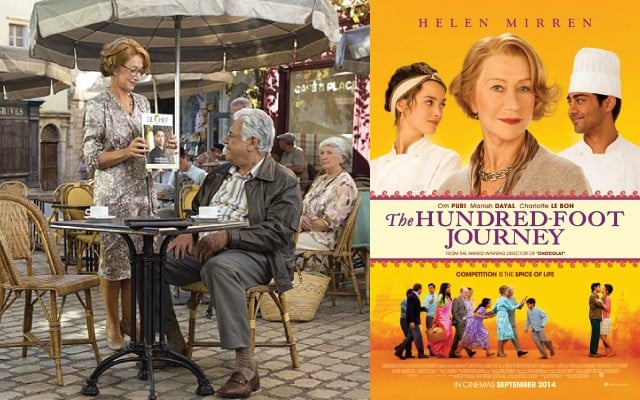 I watched the Hundred Foot Journey while I was painting the twins' nursery. So I was full of pregnancy hormones and seriously loved it. I laughed and cried and clapped and had the best time watching it. It tells the story story of a feud between two restaurants in a little French town: one owned by a relocated Indian family and the other a Michelin restaurant, run by Madam Mallory (the impeccable Helen Mirren). The love story is perfect, the rivalry is so much fun. And oh goodness, did I want to travel to France and eat all the French (and Indian!) food ever. You can visit the picturesque village of Saint-Antonin-Noble-Val, where much of it was filmed. You can even grab a map of the filming locations from the tourist office!
Buy the Hundred Foot Journey on Amazon
8. Scotland—Made of Honor
Scotland is the land of my people, and the cute romantic comedy Made of Honor always makes me want to travel back there. Tom (Patrick Dempsey) and Hannah (Michelle Monaghan) are best friends. When Hannah gets engaged to a Scot, she asks Tom to be her maid of honor. He travels to Scotland to be there for her, but realizes he wants to be more than friends. There are a lot of incredible places to visit from the film, including Eilean Donan Castle, Dunvegan Castle, and the picturesque Glenelg. I need to book a ticket!
9. New York—When Harry Met Sally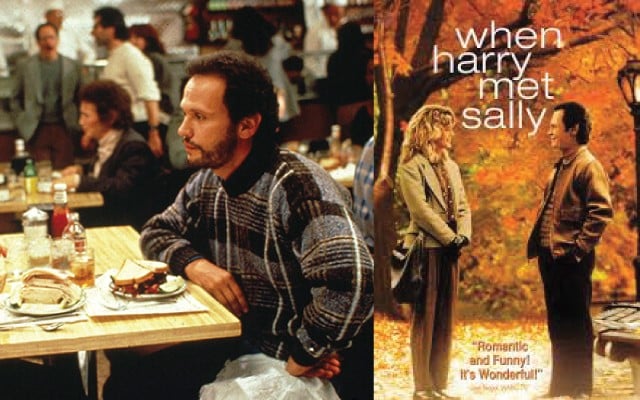 There are so many wonderful romantic comedies that take place in New York, but I decided to go with the classic When Harry Met Sally. There's a reason it's a classic—it tackles the age-old question "can a man and a woman ever be just friends?" Harry (Billy Crystal) and Sally (Meg Ryan) are absolute perfection. Throughout the movie, you get glimpses of iconic NYC, including the beautiful Loeb Boat House Restaurant, the Met, and Washington Square Park. And of course your trip isn't complete with a trip to Katz's Deli—I'll have what she's having!
Buy When Harry Met Sally on Amazon
10. San Francisco—So I Married an Axe Murderer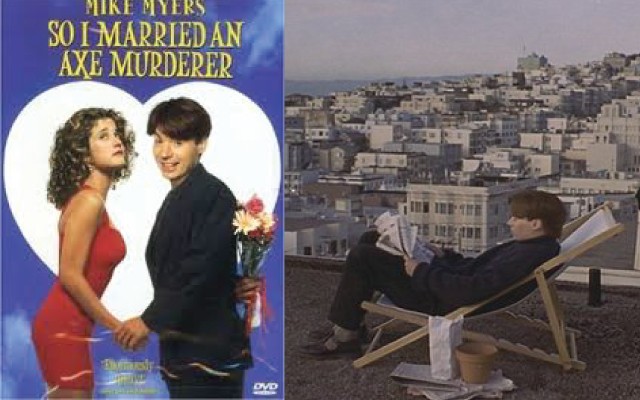 I think this is more comedy than romance, but it's one of my favorites of all time. Plus, it gives you a fantastic overview of one of my top cities in the world—San Francisco. Charlie (Mike Myers) is a man afraid of commitment until he meets Harriet (Nancy Travis), who works at a butcher shop and may be a serial killer. It's a ton of fun and more than 20 years later, I find myself quoting it all the time! There are a lot of San Francisco icons in the film, including Alcatraz, the Marin Headlands, the Palace of Fine Arts, Coit Tower, and the Golden Gate Bridge.
Buy So I Married an Axe Murderer on Amazon