Taking a trip to Kauai while pregnant? Zip lines, scuba diving, and boat tours are off the list—but here are bunch of other fun things to do during your visit to the Garden Isle.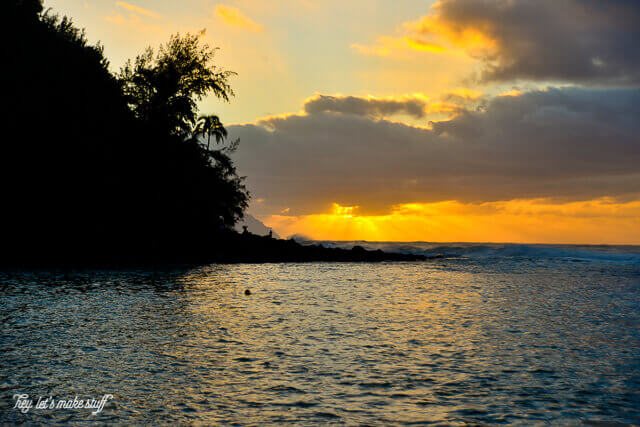 Last year, my mother-in-law invited us on a trip to Kauai, Hawaii. We were so excited…and then I found out I was pregnant with twins! When we left at the beginning of January, I was just entering my second trimester.
All of our grand plans about things to do in Kauai were thrown out the window. We're generally pretty adventurous people, so this was hard! No zip-lining, no scuba diving, no surfing, not even any hiking the rugged trail to Hanakapiai Falls. Things that I thought I could do were also off limits due to liability issues—no whale watching boat, no helicopter tour, no boat tour to the Na'pali Coast.
I didn't even particularly want to lie around in a swimsuit on Kauai's gorgeous beaches, because I was already starting to feel like a manatee. (In retrospect, I couldn't have imagined how big I would actually get a few months later!)
If I'm being honest, I wasn't looking forward to the trip like I would have been if I hadn't been pregnant.
Thankfully, once we got there we found quite a few things that I could do in Kauai while pregnant, and it ended up being a wonderful trip! Make sure to get your doctor's approval before trying any of these activities—I had a long conversation with my OB before I left about what I could and couldn't do, but it's different for every pregnancy.
Things to Do in Kauai While Pregnant
Drive to Waimea Canyon
On our first day in Kauai, we drove up to Waimea Canyon. It's often called the Grand Canyon of Hawaii, and it's absolutely breathtaking!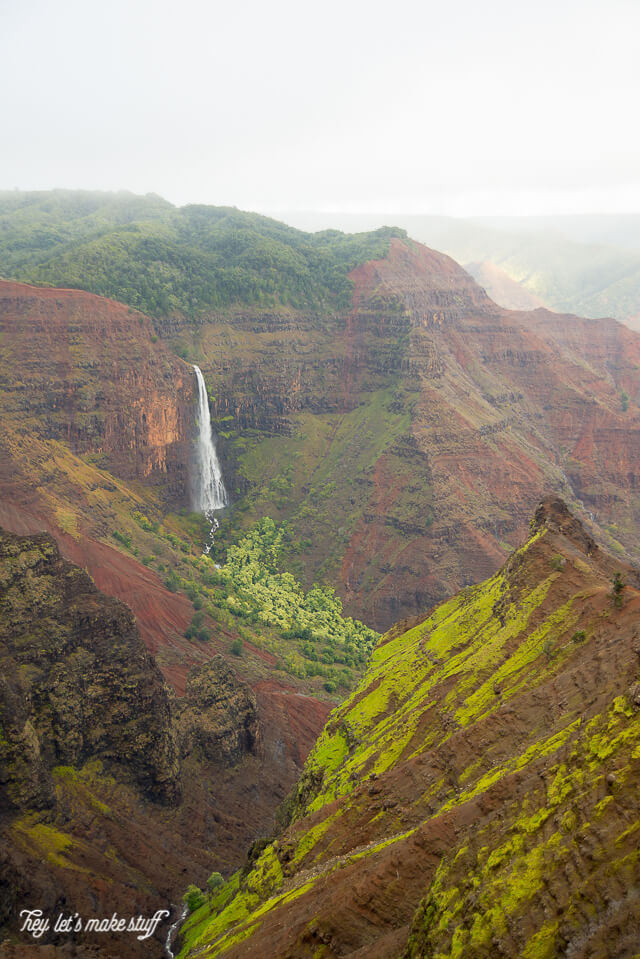 I even got to take my weekly pregnancy photo. I think I was 13 weeks along.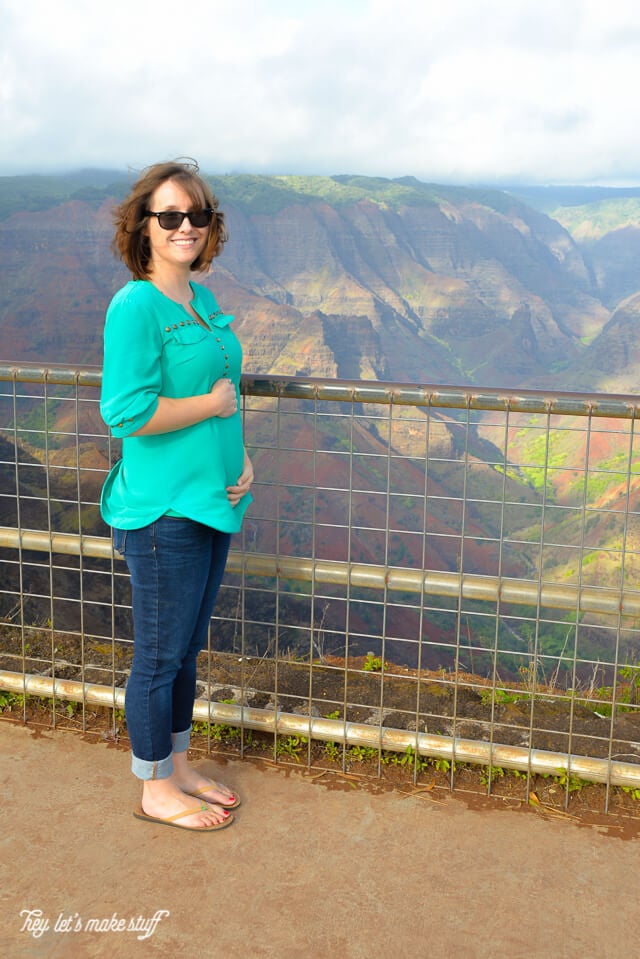 Pretty epic view, right? I could have stayed on that overlook for our whole trip—it was incredible.
The road to Waimea Canyon is curvy, so if your pregnancy is prone to make you a little nauseated, make sure to bring a carbonated beverage or a preggie-pop. There are a lot of places to stop on the side of the road, too, if you need a bit of fresh air.
Kayak the Wailua River
I didn't think that kayaking would be on the list of things I could do, but we decided to check it out since kayaking is one of my favorite things and my doctor okayed it. Thankfully, Kayak Wailua in Kapaa didn't have an restrictions for pregnant women and we were able to enjoy a gorgeous morning kayaking up the Wailua river with our guide and one other couple.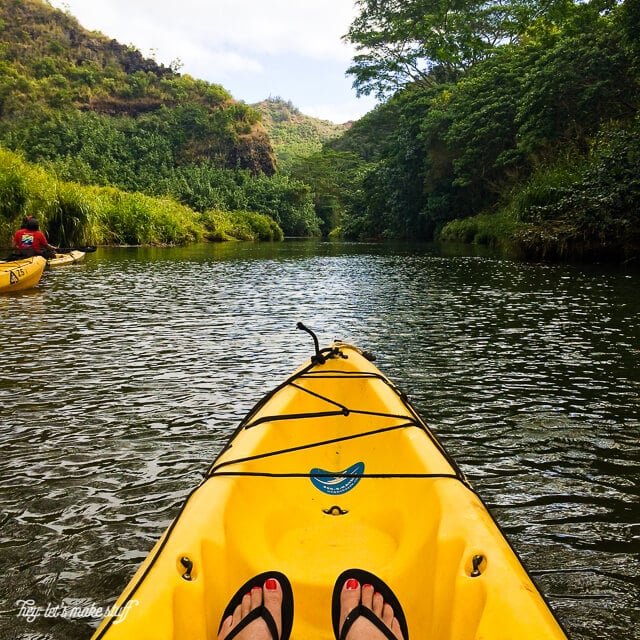 We moved pretty slowly, which I was thankful for, but I was surprised at how easy it was to kayak the placid river, even with pregnancy exhaustion. I was a little sore that evening, but it was one of the few times during my pregnancy that I really felt capable and and alive. Highly recommended!
Snorkel at Poipu Beach
I wasn't sure if I wanted to snorkel, but the day we visited Poipu Beach Park we were told there were a lot of sea turtles out and I just couldn't resist. We rented snorkel gear from Boss Frog's, grabbed a Hawaiian shave ice, and walked across the street to Poipu Beach Park. To the left, there's a smaller cove that is perfect for snorkeling. Getting into the water was a little tough—the water is a little rougher in January, but once we were out past the rocks, it felt SO good to put on my mask and just float on the water. I didn't even feel pregnant!
And I did get to see a sea turtle, up close! Swam right past me. It was a highlight of our trip for me.
Wander around Hanalei
There are a lot of great little places to wander around in Kauai (the island is so small you can drive from one end to the other in just a few hours). My favorite was Hanalei. Lots of cute stores, delicious shave ice (passionfruit, raspberry, and mango ended up being my favorite combination), and fun restaurants.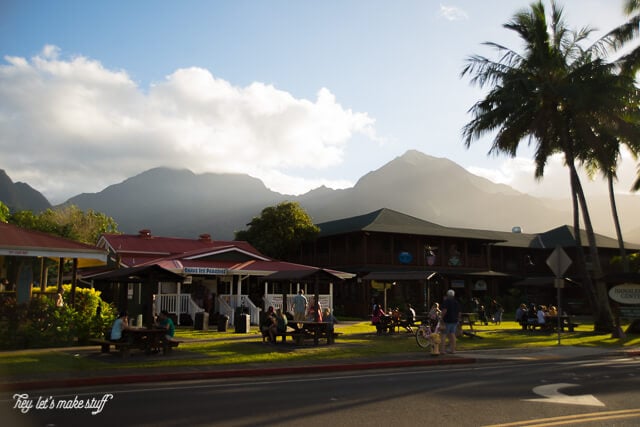 Our family left early on our last day, and Ryan and I had a few hours to kill before our flight, so we walked down to Hanalei Pier and beach. We walked along the beach and watched all the paddle boarders. It was so beautiful and I wish we'd spent more them there.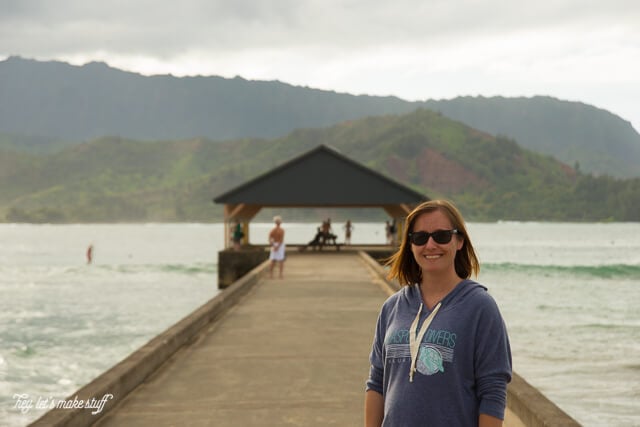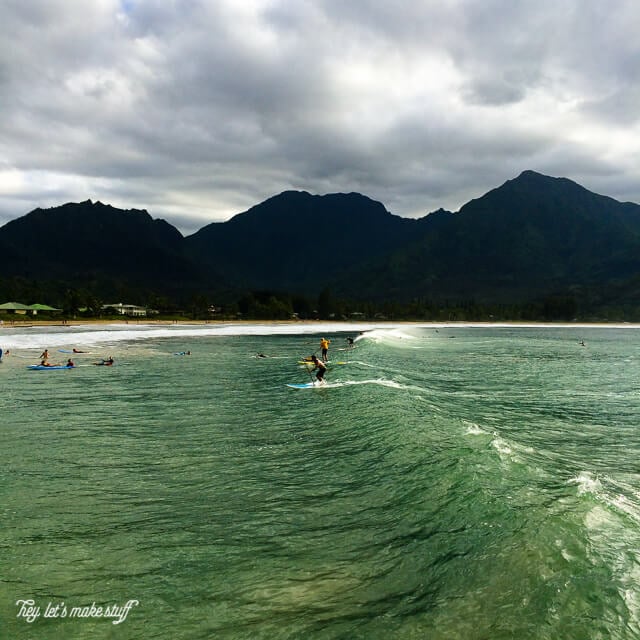 Watch the Sunset at Ke'e Beach
Twice we drove to the end of the main highway to watch the sunset at Ke'e Beach. I could have done this every night! Parking is a little tough, so get there early and be prepared for a little walk. The farther you walk down the beach, the prettier the view is. When the sun hits the horizon, it's magic. Bring a flashlight for the walk back—it gets pretty dark and it's hard to see your feet if you're growing a baby!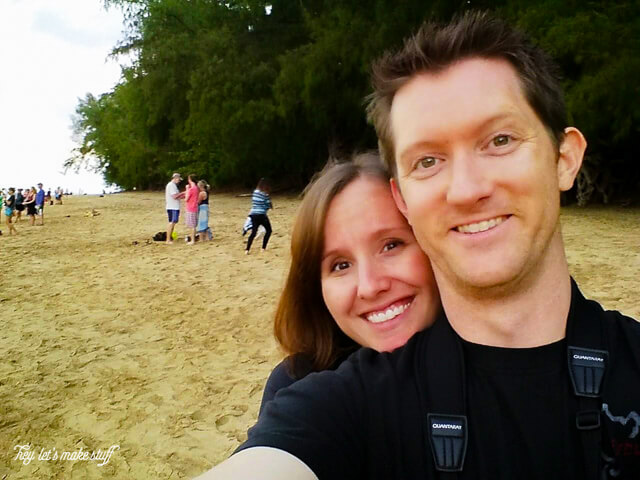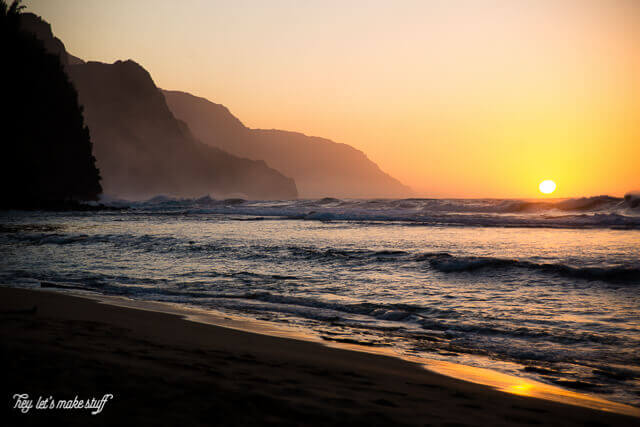 Other Ideas
We also visited the Kilauea Lighthouse, which was way better than we expected—it was just renovated and reopened last year. Plus there are some gorgeous waves waves crashing on the rocks. My mother-in-law and I toured the Kilohana Plantation Estates, which included a cute train ride with goats and wild pigs. Would be great for families with small kids, too. We didn't have the opportunity to do a luau, but that could be a fun pregnancy-friendly option as well!
Have you been to Kauai? What were your highlights?