Heading to the mountains on a motorcycle? Here's my list of must-have motorcycle gear for women, specifically for those who want to stay warm!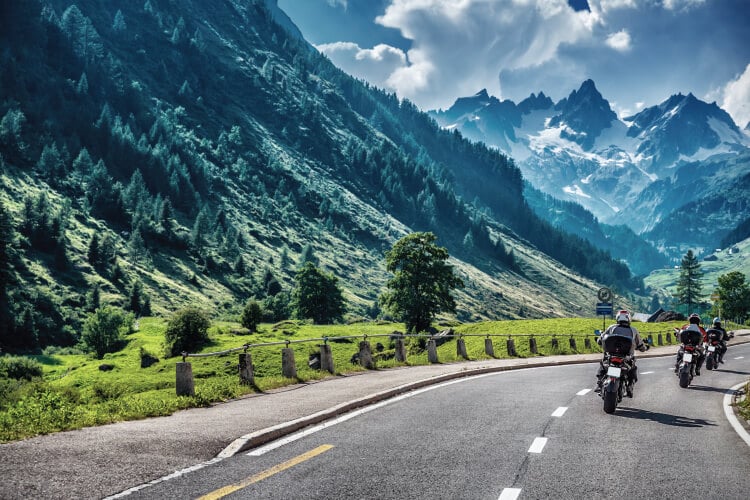 Because it's usually crafts, twins, and home decor over here, you might not know that my husband Ryan and I enjoy motorcycle trips. Our biggest trip was an epic nine days in Norway on a Honda CBF1000F that we rented on our honeymoon. You can read all about it, starting here. Why Norway? Roads like this: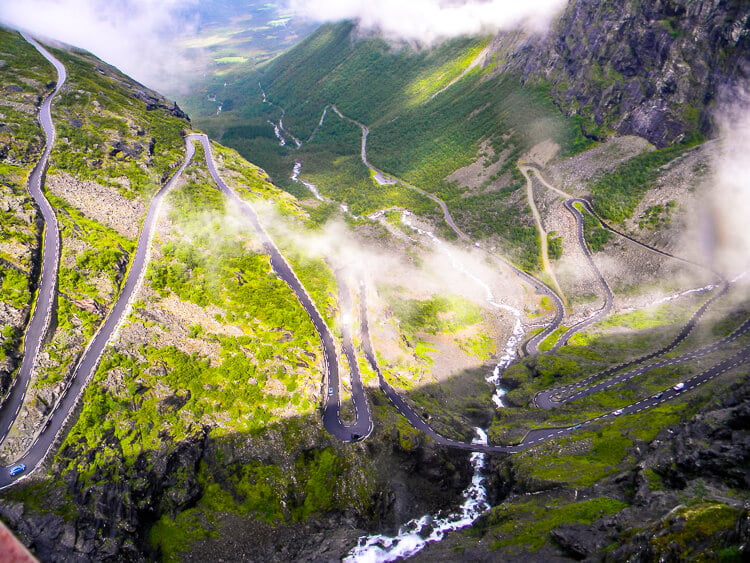 Seriously. Just go.
There's something downright amazing about taking a multi-day trip through the wild parts of the world. The perspective on a motorcycle is different than a car. You're out in the elements. Your experience is directly tied to the weather and road conditions. So, for example, when it rains, it POURS. And when you have to turn around because of a detour, you may end up going through the longest road tunnel in the world. Twice.
Anyway.
While we had the most incredible time, we learned a lot about our gear. We rented much of it, and if we were to do it again (which we want to!), we'd have a whole different packing list. One that would keep us much, drier, much warmer, and make it much easier to make pit-stops on the bike. Our plan is to take everything with us next time, instead of leaving it up to chance.
The following product links are to women's gear on Revzilla, where I buy most of my motorcycle gear (Ryan shops for men's gear there as well). Revzilla has more options for women than pretty much anywhere else. They have service representatives who are specifically knowledgable in women's fit and features. We both love Revzilla's customer service, free shipping over $35, and they have lots of great reviews and gear guides to help you make the best choices.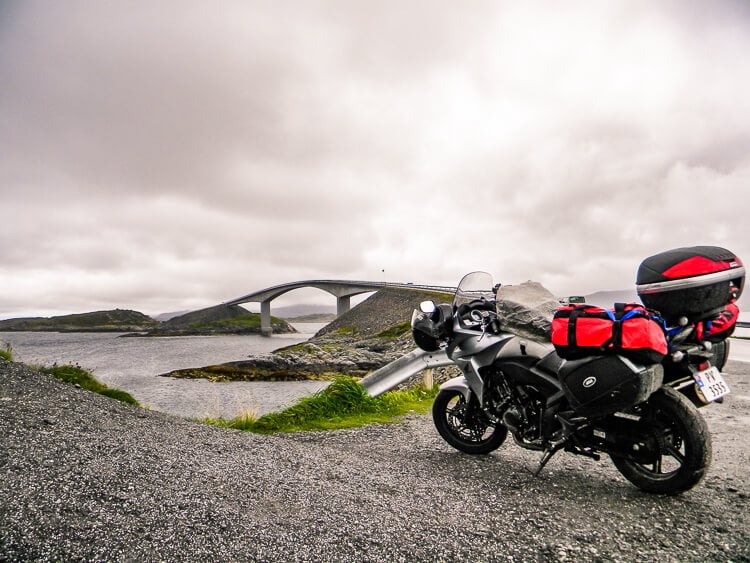 What to Wear on a Mountain Motorcycle Trip
Base Layer: A warm base layer (both pants and top) is key to staying warm and comfortable. Look for something that is both insulating and moisture-wicking. This will help you maintain a comfortable temperature. Find a top that fits close to your body. I ended up with a men's top in Norway and it didn't sit close enough to my figure to keep me truly warm. I now have a great women's base layer that works much better.
Waterproof Pants & Jacket: While a rain suit is a great option for many, I'd just prefer to have a waterproof jacket and pants. I don't like having to take off a thousand layers just to use the bathroom. I have a pair of Scorpion pants and a longer Spidi jacket (to help cover my backside from the rain) and both keep me warm and dry. They each have removable linings, so I can strip them down if it gets too warm.
Neck-warmer or Balaclava: I would have given my right arm for a better neck-warmer in Norway. I had a fleece cowl scarf, but I was constantly adjusting it trying to keep my neck warm. I prefer a neck-warmer to a full balaclava, for cuter-hair purposes. Which, of course, the helmet undoes in a second. Whatever.
Gloves: Gloves were our downfall in Norway. We were told they'd be waterproof. They were not. Not even close. Now I won't go anywhere with at least a pair of waterproof gloves and a pair of summer gloves. I also have a pair of heated gloves (see next section). Warm hands = happy rider.
Heated gear: When we do a ride like this in the future, we will be bringing heated gear. I wish I'd had some on our trip in Norway — I know I would have stayed significantly warmer if I'd had just a pair of heated gloves and a heated vest.
Helmet: We rented helmets, but I'll bring my Shoei next time. I didn't like the fit of the rented helmet, and who knows what kind of bumps and scrapes it had seen. I want my own next time, with a tinted visor to help cut down on reflections.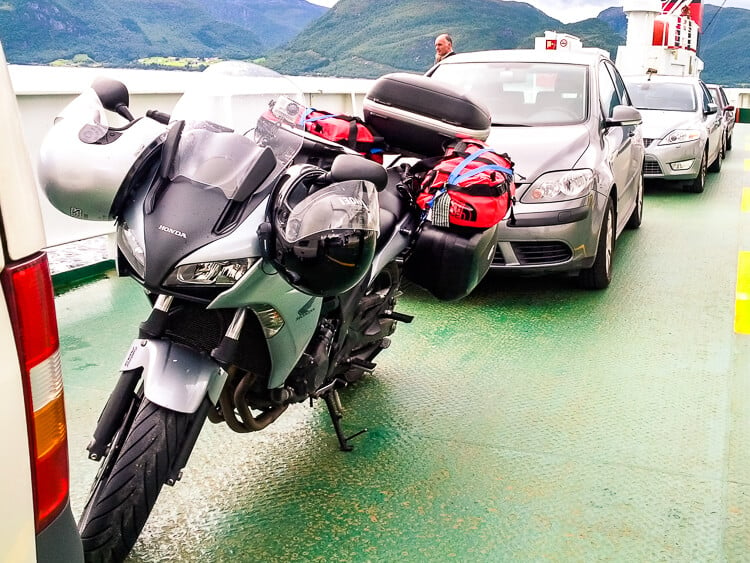 Headset: Being able to talk with Ryan while we road was paramount to my enjoyment of the trip. We saw some of the most beautiful places in the world together, and it was amazing to be able to talk about what we were seeing as we rode. We had a different headset in Norway, but we both really want this newer Sena headset.
In addition to all of these things, you'll want the standard things you'd bring on a motorcycle trip. You'll want a defogger for your visor and glasses and a good pair of sunglasses. A tire repair kit and a small compressor are important if you're going off the beaten path. We also brought our own GPS, waterproof case, and a mount (this GPS is a good option), and a GoPro so we could make this awesome video.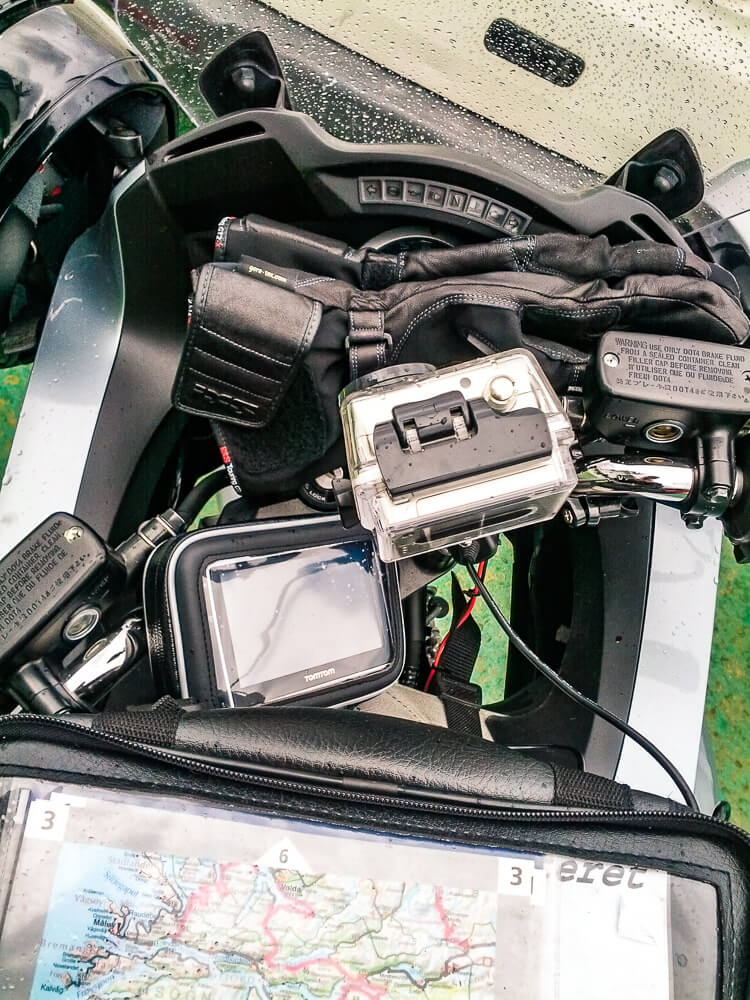 We used the luggage on the bike (panniers and the back case) and then strapped two "waterproof" duffel bags to the top. We learned the hard way that they weren't fully waterproof when we ended up in Bergen Norway without a dry item in our bags. When we do it again, we'll get truly waterproof duffels. You'll also need some cargo straps. Bring some ziplock bags just in case, as well. You'll never know when they'll come in handy.
Things to Know about a Motorcycle Mountain Trip
I also wanted to talk a little bit about a few things that came up while we were traveling.
We thought we'd planned long but still reasonable days on the bike. Nope. Combined with weather, ferries, traffic, and stops, our days were much longer than we thought they would be. When we do this again, we'll plan shorter rides each day, leaving us more time to explore things at our stops. We'd also plan a rest day every three days or so.
We also learned that our GPS had a few oddities. It didn't understand that we were on a motorcycle, and once or twice the "shortest route" was, for example, over the top of a gravel mountain. NOT great on a touring bike. Be flexible and be prepared to have to re-route your GPS.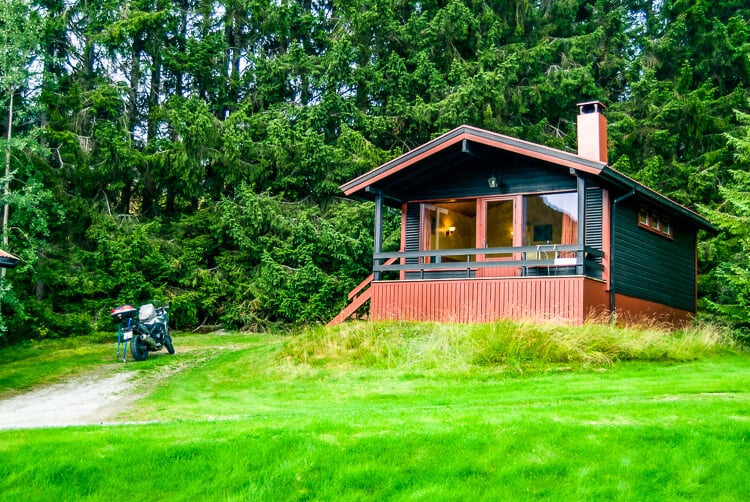 When you pack a bike down with gear, you might find that you compromise headlight visibility. We only rode at night once, and our headlight basically shone up and in front of us instead of down at the road. So either pack light or know how to adjust your headlight.
More than anything, enjoy your time. Like on any other trip, things come up. Traveling is so much more enjoyable when you can just let go and enjoy the ride. Even if it's raining.
Especially if it's raining!