Traveling to an all-inclusive resort significantly cuts down on the amount of stuff you need to pack for a trip. Here are tips and tricks to travel light in a carry-on!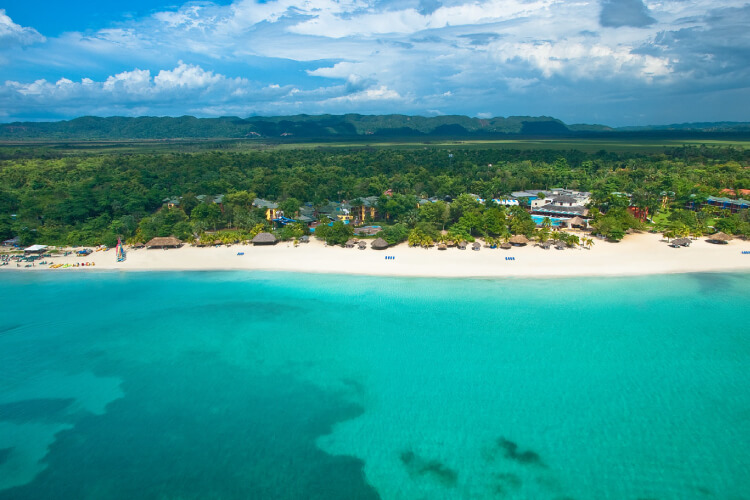 As part of the Social Media on the Sand Conference I was given discounted rates to Beaches Negril Resort and Spa. All opinions of this amazing destination and are 100% my own. Thanks for supporting the companies that support Hey, Let's Make Stuff!
I could not be more excited to be heading to Jamaica next week! I'm hitting the sand with a bunch of my favorite blogging friends for Social Media on the Sand Conference at the Beaches Resort in Negril Jamaica. While all of you are breaking out your scarves and pumpkin spice lattes, I'm trying on swim-suits and trying to find who sells sun hats in October.
Wherever I travel, I always pack light in a backpack or carry-on, but I find packing light is the hardest when I'm getting away with my girlfriends. I always want All The Shoes and All The Hair Products and to bring All The Fabulous Hats. But since my husband and I don't even own anything bigger than a carry-on suitcase, I am still going to travel light for this fun-filled girl's week in the Caribbean.
Thankfully, traveling to an all-inclusive resort like Beaches makes packing light much easier. You can leave a bunch of things at home that you'd have to travel with if you were headed to an a la carte hotel or timeshare. Here are my best tips for traveling light for an all-inclusive resort!
Tips to Travel Light
Pack Less. I have several girlfriends who went to Beaches Moms last year who said they basically spent the week in their swimsuits, sundresses, and flip flops. Add a passport and sunscreen and you're pretty much good to go! Beaches Resorts have beach towels, snorkeling equipment, and everything else you'll need for a fun beach stay.
Use Your Beach Bag. If you're going to bring a beach bag, there's no reason to pack it! Use it as your personal item on your flight — put your purse/wallet inside of it, along with whatever you need for the flight.
Limit Your Toiletries. Hotel shampoo isn't always the best, but Beaches Resorts have amazing shampoo, conditioner, and lotion in every room from their Red Lane Spa, so you don't need to pack them. Rooms have a blow dryer as well, so leave yours at home. Leave most of your make-up and hair products at home, too — beachy waves in your hair and waterproof mascara are all you need!
Use a Clear Plastic Bag. Instead of using a heavy toiletries bag with a thousand compartments, use a one-gallon plastic bag since you'll have to take everything out and put it in a plastic bag to show security at the airport anyway. And it's leak-proof. Put it at the top of your bag or backpack for easy access.
Do Laundry. If you are vacationing for more than a few days, consider doing laundry at the resort. A quick load in the middle of your week can be the different between carrying on and checking a bag. Beaches Resorts have laundry machines available for your use if you purchase tokens, or bring concentrated detergent and wash things in your room sink. This is also a good option if you plan on bringing workout clothes and visiting the Beaches gym or workout classes.
Check One Way. If you know you're going to buy souvenirs (or get swag at a conference!), bring a nylon duffel bag and fill it with souvenirs, carry it on, and check your other bag on your way home. If you have to pay a fee, it's better to pay it in only one direction! Even better, buy minimal souvenirs. I usually pick up a Christmas ornament or piece of jewelry and call it good.
Wear Your Bulkiest Items. If you're headed for a tropical location, odds are you won't have a ton of bulky clothing. But if you want to bring running shoes or a large sunhat, wear them on the plane. That will open up valuable room in your suitcase.
Pull Double Duty. I love packing items that I can use for more than one thing. For instance, I bring a sarong with me wherever I travel. It's a cover-up, beach blanket, privacy screen for changing, shawl if it gets cool, and I can tie up all my beach stuff and use it as a boho bag. And I can wear it on the freezing plane as a scarf, too!
Remove the What-ifs. If you are bringing something "just in case" — leave it at home. Rarely will you actually need the thing, and there are always stores to buy from or friends to borrow from.
Go on a Digital Detox. As tempted as you might be to bring your laptop or iPad, leave them at home. You may choose to bring your Kindle if you think you'll read, but there's so much to do at an all-inclusive resort that a paperback might be enough (and it will give your eyes a break from the screens). Of course, bring your phone — for most people, this will double as a camera as well.
Do you have any great tips to travel light? Leave them in the comments! And if you want to follow along for all of our Jamaican adventures, follow me on Instagram.