Tired of schlepping a suitcase around the globe? Here are some truly helpful tips for packing light. Once you go backpack, you never go back!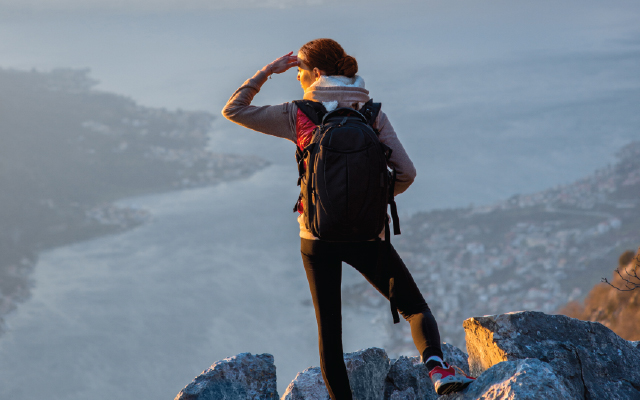 This post originally appeared on Hey, Let's Make Stuff.
In a matter of years, I've gone from the girl who, no matter what, fills her enormous suitcase with half her wardrobe to a girl who heads around the world in a backpack. With extra space at the top.
I dragged my colossal suitcase across New Zealand in 2009, up and down stairs in tiny hostels, on and off of airplanes and ferries, and in and out of our wee little rental car. By the end, I wanted to pitch it into the wide blue ocean.
After that trip, I sold my big suitcase at a garage sale. Good riddance.
In 2010, I went to England and Scotland in a carry-on suitcase, with a stuffed backpack as my personal item. Deciding what to bring and what to leave at home was hard at first, but once on my trip, I realized I didn't miss anything I'd left behind. I did regret my heavy backpack — the space under the seat in front of me was too small and I ended up not being able to access to all my "essentials" (ha) during the flight without digging it out of the overhead compartment. I didn't use half the stuff in there after all.
In 2011, I went to Italy with my mom and I packed in my husband's backpack
 and a small messenger bag as my personal item. A backpack! 22lbs! For a nine-day trip to the Italian countryside! Could I really do it?
Oh yes, I could. Since then I've almost always travel using a soft-side backpack. And you can too!
Why Travel with a Carry On
Here are five good reasons you should pack in something small enough to carry on, no matter the trip:
It saves you from outrageous fees. A friend recently traveled to Germany and had $300 in baggage fees alone (extra bags + overweight fees). *falls over*
If your flight is delayed, missed, or re-routed (as ours was from San Francisco to Rome…re-routing us through Vancouver and Frankfurt), it's impossible for an airline to lose your bag when it's strapped to your back.
Check-in and security are much easier. In many cases, you can print your boarding pass early and skip the front desk altogether. You also never have to wait at the never-ending baggage carousel of lost luggage and tears.
You never lose sight of your bag, ensuring that it won't be riffled through by sketchy airport workers.
You will be less miserable because you won't be overloaded and exhausted dragging your ridiculous bags around. This is a FACT.
Top 10 Tips for Packing Light
If you're going for a week or more, plan on doing laundry at least once on your trip (at a hotel, friend's house, laundromat, in the sink, etc.). In both Italy and the UK, I had access to a washing machine (no dryer). That automatically cut the number of clothes I brought in half. Bring clothes that retain their shape without a dryer.
Lay out all the clothes you want to bring. Then take away two or three of each category of item (shirts, pants, etc.), if not more. For my Italy pile, I cut it in half. Maybe more.
You do not, I repeat, DO NOT need all those shoes. A pair of comfy walking shoes and a pair of flip flops or sandals. Shoes are heavy and take up space. I wore the same pair of comfy sandals almost my entire time on both my Italy and Europe trips. I probably could have left my other shoes at home.
If you know you're going to buy souvenirs, bring one of those collapsible nylon bags and fill it with souvenirs, carry it on, and check your other bag on your way home. If you have to pay a fee, it's better to pay it in only one direction! Even better, buy minimal souvenirs. You don't need another snow globe. Really, you don't.
If you can say, "I'm packing this just in case," leave it at home. They have stores in other cities, just in case.
Girls (and some dudes?) — traveling light doesn't mean you have to sacrifice looking cute. You will have to wear things more than once and your daily outfit options will be more limited. You may not be quite as cute as you are at home, but you can get close. Try REI — they have some really cute non-granola stuff that travels really well. Add a scarf, a little light jewelry — no one will think you're one of those crunchy dread-locked backpackers who hasn't taken a shower in a month.
You do not need a giant toiletries bag with a thousand compartments. I put everything in a one-gallon plastic bag, since I have to take everything out and put it in a plastic bag to show security at the airport anyway. And it's leak-proof. It sits at the top of my backpack for easy access at security. Also, slim down what toiletries  you bring to the absolute basics.
If you're staying with someone you know, borrow, borrow, borrow. There's no reason to bring your own shampoo, condition, lotion, blow dryer, flat iron, etc. if your friend (or hotel) has these things. It may not be your blow dryer, but it will be just fine.
Wear your heaviest stuff on the plane. If you're going to need a coat, wear it. If you're going to need hiking boots, wear them. They take up too much space in your bag, and, conveniently, the coat can be used as a pillow.
Minimize the amount of "in-flight entertainment" you bring. Seriously, how much do you actually do during a flight? You don't need two books, your Kindle, an iPad, an iPod, three magazines, a book of Sudoku, crossword puzzles, a deck of cards, and four granola bars. Bring one or two things. Let's be real. You're going to sleep for most of the flight anyway, aren't you?
When we went to Italy, there was a woman in our tour group who brought two 70lb suitcases, plus she bought at least a dozen bottles of wine and four liters of olive oil during the week. AND she was headed to Spain next (She and her husband were on their honeymoon. It might just be me, but shouldn't you be wearing less on a honeymoon? Just sayin'.).
She even admitted that it was far too much to bring and she (and her luggage-toting new husband) was miserable any time they had to move locations. But she kept using the "I thought I'd bring blah blah, just in case" or "What if I didn't feel like wearing blah blah" excuses. I can guarantee that she used maybe 20% of her luggage on that trip. That means she dragged around 112lbs of unnecessary luggage. That's like carrying around an extra Justin Bieber, just in case. You will never, ever need an extra Justin Bieber.
Do not be this woman. I can't tell you how freeing it is to just be moving around with everything you need on your back. The act of getting from place to place becomes less of a burden, both on you and on the people who have to deal with you and your menagerie of bags. It's more secure, it takes less time, and you are less susceptible to baggage-related injury.
Trust me. Once you backpack, you never go back.