Go on a hike with your baby! Here is everything you need to know to make hiking with a baby a pleasant experience for everyone.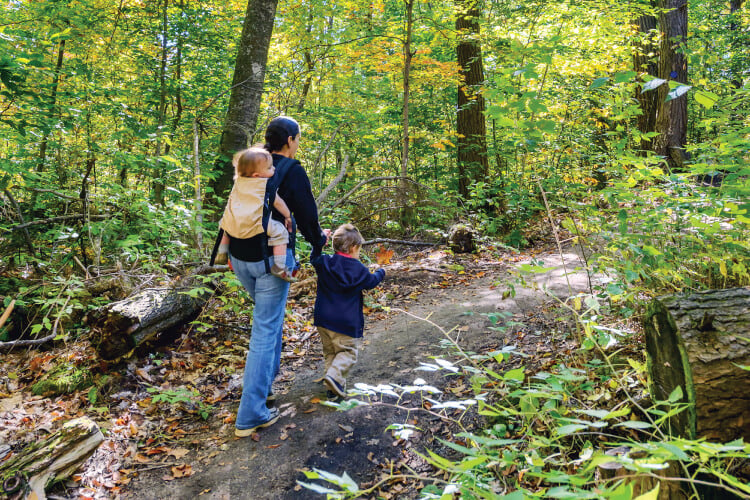 We started hiking with our twins when they were 11 weeks old. We got strange looks, especially because the boys were born early and are on the smaller side. But it turns out it was easy to get out with them since they just fell asleep in their carriers while we hiked. We're teaching them early that being outside and active is what our family does.
Want to get out on the trail with your baby? Here are a few things to consider.
Scope Out the Trail
If possible, do a dry run of the hike before taking your baby out. You may start with a hike you have done before and know well. Or you might leave baby with grandma and grandpa while you explore a new trail. You want to be familiar with the terrain so that you don't get yourself into a tough spot while hiking with your little one. Make your first hikes short — no more than five miles. You want to get comfortable hiking with your little one before attempting a longer trail.
Also, moms, remember that you are postpartum. Your body is still recovering from having a baby (or babies!) and may not be able to do everything you used to do. You're probably carrying a few extra pounds, not to mention the baby strapped to your chest (unless baby is on dad — we don't have that option with twins). Go slowly and listen to your body. This is not the time to push yourself! Also note that your feet may have changed size or shape a little bit during pregnancy — your hiking shoes or boots might not fit the same. Carry bandaids in case of blisters.
Hike When It's Nice
While you may have been comfortable hiking in the rain before you had kids, you definitely don't want to expose your baby to rough weather quite yet. Same goes with the heat. Babies have a harder time regulating their body temperature, so they get cold or hot much more quickly than adults do. If it does get hot, try a Frogg Toggs cooling towel. You can put it behind baby's neck and they'll stay much cooler. You can also take baby out of the carrier every so often so he or she can cool off.
Also note that babies under six months shouldn't get sunscreen or bug repellant, so make sure baby stays covered and avoid places with mosquitos and other biting bugs.
Pick a Quality Carrier
Hiking with a baby means that you're going to need a baby carrier. There is a wide variety of carriers on the market. I recommend a high-quality soft-sided carrier — the extra cost is definitely worth it. You should expect to pay between $100 and $150 for a good carrier. Anything less and you're going to compromise quality and comfort.
Babies under six months should be carried on the front (the exception being experienced wearers can wear baby on the back in a wrap). Baby should be able to sit up unassisted before moving to the back. Once your kiddo is a toddler, you can consider getting a frame backpack, like the Osprey Poco Plus. Also, allow your toddler to walk and explore themselves, so they will start to love the outdoors on their own.
Ryan and I each have a Lillebaby carrier and we love them! I have the Embossed and Ryan has the Airflow. The Lillebaby has six carry options including front and back, a small pocket, and a hood to protect baby from the sun. We both find them to be extremely comfortable, especially because they have lumbar support.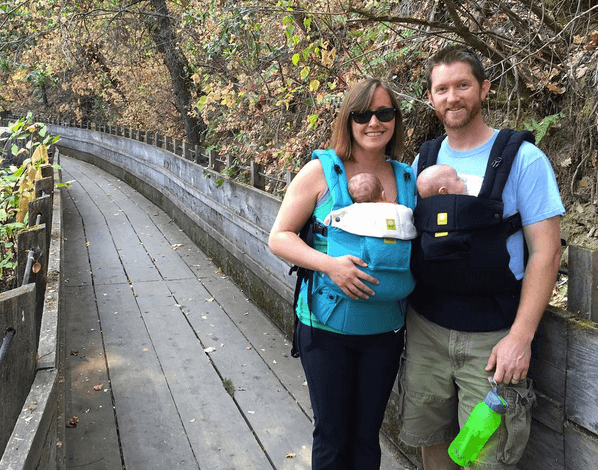 Other options are the Tula, BabyBjorn, and Becco, among others. Check to see if there is a babywearing group in your area — Facebook is a great reference for this. Often you can try out different carriers in their lending library before deciding to buy.
Keep Everyone Hydrated
Always carry plenty of water with you, especially when it's hot. Yes, water is heavy — but that gives you a good excuse to drink it!
For our babies, we asked our pediatrician about how to keep them hydrated. He said under three months, breast milk or formula is the way to go. After three months, you can do Pedialyte or coconut water. After six months, you can start regular water. Make sure to check with your own pediatrician to make sure you're doing what's best for your baby.
Pack Out Your Trash — Including Diapers
Think ahead about changing diapers on the trail. We cloth diaper at home, but like disposables when we hike. Carry an extra diaper or two in a plastic bag — that way, you have a place to put the dirty diaper when you do a diaper change. If you can, bring a small changing pad, although we've used the carrier as a pad and it's worked ok for us. Also bring an extra outfit, just in case baby has a blowout.
Hike for Enjoyment
Often, we hike because we want to see how far or high we can go. We love to push ourselves and see new things. But when you're hiking with a postpartum mom and a new baby, change your perspective. Hike to get outside. Hike to feel the sun on your face, the ground crunching beneath your feet. Rest often and put your feet in a creek. This isn't time time to break any records. Get back to the roots of why we hike — because we enjoy being outside.