Planning on hiking Half Dome in Yosemite National Park? Here's everything you need to know before you strap on your hiking boots.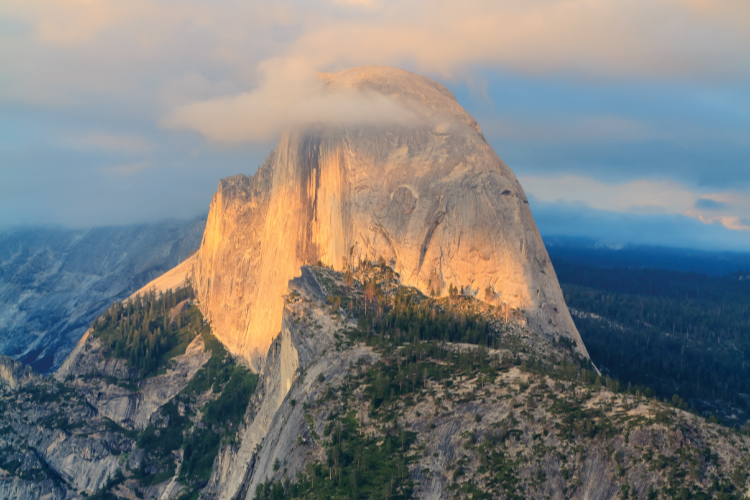 This post originally appeared on Hey, Let's Make Stuff.
My friend Amy and I put Half Dome on our bucket list two years ago. It's an intense 14- to 16-mile hike that gains 4,800 feet of elevation and ends with an ascent up 400 feet of cables to the top of the dome (which stands at 8,836 feet above sea level). I'm not sure what got into me when I decided I wanted to do this – I'm terrified of heights. But I've been facing a lot of my fears in the last year or two, so I thought this could be an awesome story to tell! Amy, her boyfriend Nick, and my boyfriend Ryan and I set out on July 10 to conquer the beast.
Hiking Half Dome Permits
As of 2010, permits are required to climb the subdome and ascend the cables (update: as of 2013, it was changed to a lottery system). Getting permits is nearly impossible. Amy and I went online to the NPS website and created accounts beforehand. Just before 7:00am on April 1st, we started clicking "buy" for two different dates. Immediately Amy's date sold out. Thankfully, I got four permits for July 10. I think the entire month of July sold out in less than a minute. We were lucky, too. Because of our crazy wet winter, Half Dome has been covered in snow and they put the cables up only a week and a half before we went. Unfortunately the people who had permits for May and June missed out.
A great resource for permits is Mr. Half Dome, who has a site dedicated to swapping or giving away permits (he also has a ton of useful information about the hike itself). On our hike, there were quite a few people who reached the subdome without permits, but were able to get one or two from people who had extras or who decided they couldn't face the cables. A handful of people played dumb and said they didn't know they needed permits, despite the fact there were half a dozen signs on the trail that said, "Make sure you have your permits." The ranger stationed at the bottom of the subdome was strict about the permits, but I think most people ended up being able to snag one.
Packing List
I wore: Merrell trail shoes (not quite hiking boots, but much better grip than regular running shoes), Smartwool hiking socks, Outdoor Research convertible hiking pants that zipped off at the knees, a non-cotton tank top, my Mountain Hardware rain jacket, a bandana, sunglasses, a watch, and a wide-brimmed hat. In my Camelbak I carried: three liters of water, a large bottle of Gatorade, Gatorade pre-game fuel (massive carbs in a pouch), two PBJs, three Clif Bars, trail mix, beef jerky, bug repellant, an extra pair of socks, TriSlide
 (a silicone spray that helps prevent blisters…highly recommended), Chapstick, camera, Flip video camera, toilet paper, a plastic bag for trash (pack out everything you bring in…sadly there was trash on the trail), and latex-coated gloves
 for the cables. Ryan also carried the sunscreen and a water filter
, both of which I used. The only thing I didn't use were the extra socks, but I was glad they were there just in case.
The Day Before
We drove down to Yosemite Saturday morning (despite living so close, I'd never been before!!). It's about four hours southeast of Sacramento, and we got to the park around 1:00. The line of cars backed up to get into the park was ridiculously long, and it took us another half hour just to get in. We headed straight for Glacier Point, one of the most scenic overlooks in all of Yosemite, including a stunning view of Half Dome. I can't describe the vastness and beauty of Yosemite – it must be seen to be believed. We wandered around for a while, staring at Half Dome, knowing that tomorrow we'd be standing on top of it (we hoped). There's a telescope at the "Geological Exhibit" where you can just barely see people on top of the dome. We had some ice cream and took a bunch of photos, then headed back down into Yosemite Valley.
We ate dinner at Degnan's Pizza, which was really good, and then walked around the Valley a little bit before driving out of the park and to our hotel. We stayed at the Yosemite Cedar Lodge in El Portal, about 45 minutes away from the Half Dome trailhead. We had wanted to camp in the park, but Yosemite campsites sell out practically as fast as cable permits. So a hotel it was. The Cedar Lodge was a nice hotel and perfect for our needs, though we went to bed early and the people who were walking and talking outside were sort of annoying, but that was to be expected. We packed everything for the next day, made PBJs, and crashed around 9:00pm and set our alarms for 3:00am.
The Night Before
I didn't sleep. At all. Oh hell.
The Hike Up
We were at the Happy Isles parking lot a little after 4:00am. There was a sign saying the lot was full, but it had plenty of parking. We gathered our gear and set out. It was really dark – each of us carried a flashlight or headlamp. There's a little distance between the parking lot and the trailhead, and then a flat bit before you reach the High Sierra Loop Trail sign, which says Half Dome is 8.2 miles away. The Mist Trail (versus the John Muir trail) takes about 2.4 miles off the total round trip, but is more brutal on the knees.
The first twenty minutes of the nicely paved but fairly steep trail were an absolute nightmare for me. Partly because my muscles were not warmed up and my legs were so tight, and partly because I kept thinking about how I had to keep moving for the next 12 hours (at least) without any chance to sleep or rest, not to mention I had to face one of my biggest fears. I made everyone stop and I sat down on a rock, nearly in tears. Ryan told me, "Just make it to the Vernal Falls footbridge. That's all. We'll decide there, OK?" So I ate a Clif Bar and started moving again. One step at a time. I'm in good shape (from karate and cycling), so knew that I should be doing better than I was. With fuel and some stretching, my muscles finally started behaving and we decided to try for the top of Vernal Falls, via the Mist Trail.
California had an unseasonably wet winter, and the falls and river were liquid insanity. We were drenched by the time we reached the first of the many, many, many uneven stone "stairs" on this hike. Some are more like stairs, and some are rocks, and some are a combination of both. All of them are wet. By this time daylight was starting to break and I was feeling a lot better.
The stairs go on for approximately forever and ever (alternate knees …my left knee was aching because I tend to lead with it), then we reached another footbridge to back across the river. We stopped and had a snack and then continued up toward Nevada Falls. We were all drinking a lot of water and felt good. There are more steep stone "stairs" here, in a bunch of little switchbacks to the top of the falls. We took a slight detour on the John Muir trail so we could see Nevada Falls from the top. We were pretty much speechless staring at the amount of water raging over the falls.
I'm glad we took the extra time to go see this. It was phenomenal.
There's some more uphill for a bit, then we reached the Little Yosemite Valley, a God-given flat bit that offered a nice rest from all the up. It was still early in the day, so it was shaded and cool. We also got our first good view of the backside of Half Dome. Near here is a place where backpackers can stay the night if they want to do the hike in two days. This is also the last place to use real bathrooms. Took my jacket off here and loaded up on sunscreen and bug repellant (the mosquitoes were biting).
The next three miles are tough. It's up and up with switchbacks, a combination of dirt and rocks. Some of it is fairly steep. We took it slow, taking a lot of breaks to rest and refuel. I also had my first experience peeing in the woods (go me!). This part of the hike wraps around the side of Half Dome and you start to get a view of just what awaits you when you reach the bottom of the subdome. There's a sort of flat-ish bit here, hiking up and over some granite on a not-so-clearly marked trail.
We finally reached the subdome, where the ranger checked our permits. We took a long rest and refueled. My nerves were getting jangly at this point. The subdome can be practically as scary as the cables. More uneven steep stone steps with a nice sheer drop should you make a wrong step. There was one point, scrambling up some particularly steep granite, where I had to stop and really breathe because I was about to lose my composure. Ryan, Amy and Nick were really helpful, encouraging me to focus on one step at a time. We made it up to the top of the subdome, where the Half Dome and the infamous cables loomed over us.
The Cables Up
I've read that the rock face never get more than 50 degrees steep, but you could have fooled me. Those cables were steep. We had brought gloves along with us, which was a good thing because the Pile o' Gloves that people leave was nonexistent (we gave our gloves to others when we got back down) and you want to have a good grip. There are wooden planks to rest on every ten feet or so, but it's still a strenuous climb.
I am not going to lie. I was terrified. I've had "falling nightmares" my whole life and this felt so much like one of those nightmares that I was sure I was just going to slip and fall backward into oblivion. It's not exaggeration to say that if you fall, you're headed down for a long time…and you're not getting back up again. I got up the first third of the cables OK, though I had a death grip on the cables that caused my muscles to burn (I could not get myself to relax, no matter how hard I tried). I used the one-cable method — hand over hand. Others use both cables with their arms out to their sides. The cables get extra-steep in the middle and I had a moment of panic, but Ryan was right behind me telling me how great I was doing and how we were almost there. I managed to tamp down the panic before it became debilitating, but it was really hard. By the time we reached the top, I couldn't straighten my arms and my muscles had pretty much seized up.
The Top
Then you get to the top, and WOAH.
The views are gorgeous, and the feeling of triumph can't be beat. The top of Half Dome looks almost lunar. No trees, but lots of rocks and a bit of low scrub. People have piled the rocks into cairns, making it seem a bit like a stone graveyard. Generally I stayed away from the edge, but I did venture out on the "diving board" for a few photos. I'm pretty much crying behind my sunglasses from fear. But I did it! We stayed up at the top for over an hour, letting our muscles rest. A nice guy gave me some salt tablets which seemed to help the cramping in my arms. Because of the permit system there weren't too many people on top, and we wandered around and took photos, breathing in the splendor and beauty of Yosemite and the exhilaration that we'd actually made it.
The Cables Back Down
Though Amy, Nick and Ryan had no real problems with the cables, this was, by far, the worst part of my day. I was so emotionally, mentally, and physically exhausted at this point, and all I wanted to do was sit down and throw up (but I didn't think the people below me on the cables would appreciate this…not that I cared at that point…it was more that there was no place to sit). I was running on adrenaline, fear, and Jesus—shaking and in tears, too.
I did the cables backward, so that I wouldn't have to look at the drop. Ryan had to talk me down with every step, putting his boot out for me as an anchor when I needed it. All of the people going up were nice enough to move over to the left so I could maintain my death grip on the right cable. Everyone on the cables was so encouraging and kind. After a while I got into a rhythm and it was ever-so-slightly less terrifying. A hundred years later we made it to the bottom, and I threw my aching arms in the air, pretty much burst into tears, and yelled, "I DID IT!!!" I can't even describe the feeling of pure triumph I had at that point.
The Hike Back Down
The hike down was everything it was uphill…but downhill. It's a different set of muscles entirely, though, so it was nice to tire out something new. It was also far less exhausting in terms of breathing and the strenuousness of it all. But the new pain of your toes slamming into the end of your shoes for five hours was something I hadn't planned on. Not sure how to keep that from happening — all of us had sore and bruised toes by the bottom. I also found that I wasn't really afraid of the heights on the way down — nothing seemed all that scary compared to the cables.
We talked with a bunch of different people — a group of friends who were hiking before one of them moved overseas, a guy from Alabama, a couple guys backpacking all the way to Mount Whitney (211 miles away). We refilled our water supply in the Little Yosemite Valley in the Merced River (using the filter). I drank more than a gallon and a half of liquids during the whole hike and was glad to have the filter with us. I never felt dehydrated.
As we got closer to Nevada Falls and then Vernal Falls, the number of people on the trail increased significantly. There were a ton of day hikers enjoying the falls. I can imagine how nice of an afternoon it would be to spend some time at the top of Vernal Falls, soaking in the sunshine and hearing the roar of the river. The Mist Trail was definitely welcome at that point in our day, as the sun was near full strength and we were hot. Didn't put my rain jacket back on for it – just enjoyed the cold spray on my warm skin.
The whole hike (from the car back to the car) took us a little over 14 hours. That's longer than average, but we probably rested more than normal, we had that side trip to Nevada Falls, and we were up at the top longer than most. We drove back to Sacramento that night, stopping in Groveland for dinner. After a shower that only got maybe 3 of the 7 layers of sunscreen and bug repellant off, I fell into bed and didn't move until my alarm went off for work the next morning.
Worth it?
So was all the terror and pain worth it? If you'd asked me on my way back down the cables, I would have said, "Oh HELL no. Get me off this damn rock." But once I was down I decided it was SO worth it. To know that I was physically and mentally able to do it has fundamentally changed the way I see myself. I can push through things I never thought I could. A few years ago, I would never have considered doing something like this. It wouldn't have even been on my radar. But as I get older, I'm realizing that I truly want to live. And if there's one thing that Half Dome did for me, it was make me feel ALIVE.